Our 2018 Summer Exhibition will take place between the Saturday 25th August 2018 and Wednesday 29th August 2018, including the late summer Bank Holiday at the Emsworth Community Centre.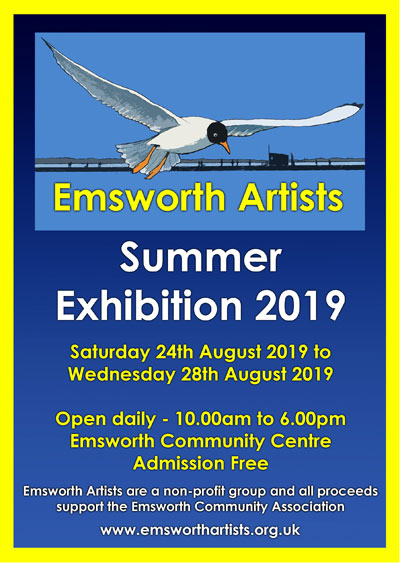 All the proceeds of the exhibition are given to the Emsworth Community Association, who run the Community Centre. In 2017, we gave over £1,000 to the ECA.
The exhibition features paintings, sculpture, cards and art pottery made by the Emsworth Artists.
The two Awards are presented at the close of the Exhibition. The Sydney Stokes Award is a candlestìck donated by the widow of Sydney Stokes, Flora, in memory of Sydney whose retrospective exhibition 26 years ago was the start of the Emsworth Artists. It is awarded to the artwork that is voted the favourite of the visitors to the exhibition
The second award is the Mountford Award for Watercolour. Laurence Mountford was a founder member of Emsworth Artists. He and his wife Sheila were active patrons and supporters of the Community Centre and funded the building of the Mountford Rooms where our Exhibition is held. It is a certificate awarded to the favourite watercolour in the exhibition, again voted by the visitors.
Entry to the exhibition is free.
Location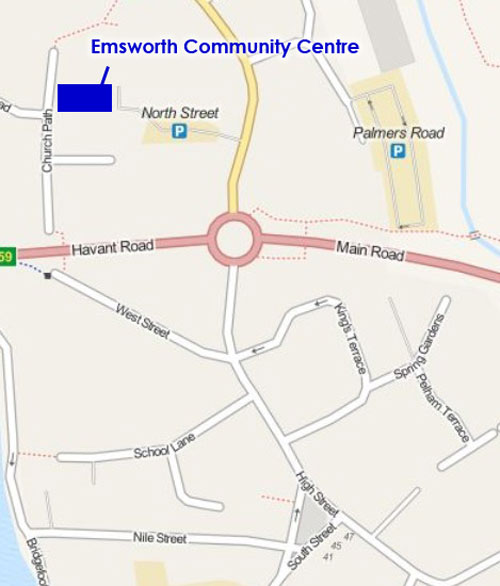 The picturesque fishing village of Emsworth in Hampshire is located on the south coast (between Chichester and Portsmouth) in the upper reaches of Chichester Harbour.
By Road Emsworth is on the A259 and is clearly signed from the M27/ A27 between Havant and Chichester.
Train services from Central London:
South West Trains from London Waterloo via Havant - 1hr 30mins (typical).
Southern Trains from London Victoria direct - 1hr 55mins
Train from Gatwick Airport: Southern Trains direct - 1hr 6 mins (typical)
Bus service from Portsmouth: Stagecoach 700 Coastliner - 50 mins
Bus from Chichester: Stagecoach 700 Coastliner - 30 mins
The Community Centre can be found off North Street, adjacent to the car park located behind Emsworth Museum and the Fire Station.