Emsworth Arts Trail
The Emsworth Artists are residents of Emsworth and in general, are a sub-group of the participating artists in Emsworth Arts Trail, whjch takes place around the May Bank Holiday.
This year, the event takes place on Saturday & Sunday 22nd/23rd April 2017and then over the Bank Holiday weekend; 29th April to 1st May 2017.
Over one hundred and fifty artists at over seventy venues can be visited over the two weekends by walking around this picturesque coastal village. A really unique experience! The Trail offers the chance to see and purchase stunning original works, cards, and reproductions and meet the designers, painters and makers in their own homes and studios. The Trail Guide will lead you on a fascinating tour of paintings, ceramics, photography, jewellery, textiles, furniture and more – all vying for your attention.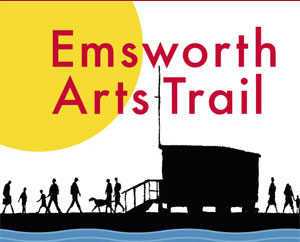 We hope that you will enjoy visiting us and perhaps find time to look around the historic and picturesque town and harbour, take refreshment in one of the many cafes, restaurants or pubs and visit the museum.
website: www.emsworthartstrail.org.uk