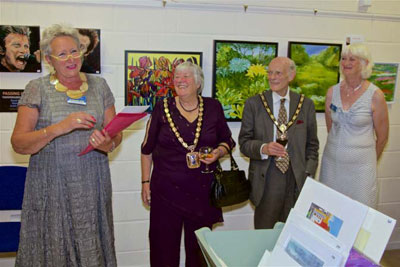 Opening by Mayor of Havant Borough, Cllr.Faith Ponsonby
Press Release
Emsworth Artists Summer Exhibition
This year's Emsworth Artists 2016 Summer Exhibition of Art was held in the the Mountford Room at the Community Centre for five days including the Bank Holiday Weekend in August.
Monies taken at the exhibition were 6% year above those in the previous year, allowing the group to donate £850 to Emsworth Community Association in 2016.
The standard of pictures in the show were very high, with an increasing number of works using new media, as well as traditional media such as oils, acrylics and watercolours. For the first time this years, artists working in 3D media were included, adding a new dimension to the show,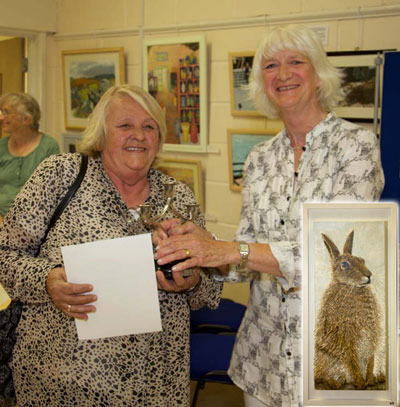 Mo Hussey receiving the Sidney Stokes award from
Marian Forster, the Emsworth Artists Chairman
Visitors voted for their favourite pictures in the show. The winner of the Sidney Stokes Award for the favourite picture overall went to Mo Hussey, with her multimedia painting, 'Highland Hare'.
Runners-up were: 2nd - 'Travels with my Aunt' sculpture by Becky Dunn, 3rd - 'Sunrise over Water' oil by Isobel Banfield, 4th - 'Night meets Day' photograph by Chris Doyle and 5th - 'Slipper Pond' print by Julie Turner. it was notable that Becky Dunn and Chris Doyle are new artists this year, and the all the works are different media.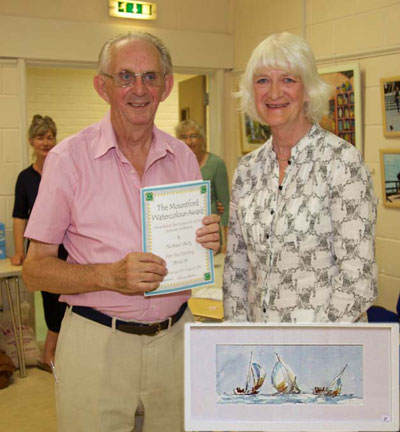 Michael Bury receiving the Mountford award from
Marian Forster, the Emsworth Artists Chairman
The Mountford Award for the favourite watercolour in the show went toMichael Bury, with his painting 'Broach'.
Runners-up were: 2nd - 'Emsworth's Terror' by Marian Forster, 3rd - 'Petersfield Market' by David Kitchen, 4th - 'Peter Pond' by Angela Loader and 5th - 'Quayside' by Simon Cowper.
Next year's exhibition will take place between Saturday 26th August and Wednesday 30st August 2017, with a Preview Launch event being held on the evening of Friday 25th August.
Both the Launch Event and the main Exhibition are open to all, and admission is free.
ENDS